Don't Forget the Songs-365: Mach Tres: Day 257
Fri. Nov 14, 2013
"Cygnet Committee"
David Bowie
1969


"♫ I
want to
Live ♫"


One of the most underrated songs on his 1969 debut album David Bowie, also know as Space Oddity, this treasure is definitely the most Zimmerman-esque cut Bowie had penned to date, even before his obvious ode on Hunky Dory's "Song for Bob Dylan." Peter Doggett said it best in his book The Man Who Sold The World: David Bowie & The 1970's, when he wrote, "Like Bob Dylan, who was fighting off attempts [for the hippy movement] to co-opt him as the figurehead of the counter-culture revolution, Bowie wanted nothing more than to be allowed to live." Although David Bowie's 1969 debut is known for the Thin White Duke's creation of Major Tom, this 9 minute acoustic flavored epic is best known for David's indictment of the Hippie Generation also finds Bowie struggling to balance his personal independence and the need for critical success and commercial stardom.


Speaking of David and Bob, in Sean Egan's edited The Mammoth Book of Bob Dylan, documentary filmmaker D.A. Pennebaker talked about the similarities between Bowie and Dylan when he said, "I think they're quite alike. Like Dylan, Bowie lives in the part of his brain that you and I don't know anything about. Both of them have this place in their head they cab go into and kind of disappear. I've seen them both do it, disappear on me, right in the middle of a sentence." "Cygnet Committee" is the sound of Bowie beginning to slip inside this shell. Although he has yet to voyage into outer space, you can feel the genesis of what makes Bowie want to crawl inside and mold the seeds of his future alter-ego Ziggy Stardust.


More than just a Dylan inspired treatise, in his book, Your Pretty Face is Going to Hell: The Dangerous Glitter of David Bowie, Iggy Pop & Lou Reed, Dave Thompson talked about the exquisite wonder of "Cygnet" when he called this Space Oddity, "the most important song [David Bowie] has ever written." Thompson explained his reasoning's when he wrote, "Even at literal face value, the song is the most venomous indictment [Bowie] has ever written. It is important because of what it would say, if you play it again a decade or so after it's original release, and viewed those words through the eyes of plaintive hindsight. There are certainly enough ideas adrift for any other artist to have fashioned an entire concept album around it, but Bowie somehow holds it all together, and does so with such apparent ease that one could believe he penned such behemoths every day."


Although "Committee was released a year before the former the former Beatle created Plastic Ono Band, when John sung "I don't believe…" could Lennon have penned "God" as a lyrical retort to Bowie's "Cygnet Committee? Looking back, "Cygnet" sounds like the anti-thesis of John Lennon's "God." This was 1969 and unlike Lennon who was tired of the mania surrounding The Beatles, Bowie had yet to reach his age of disillusionment.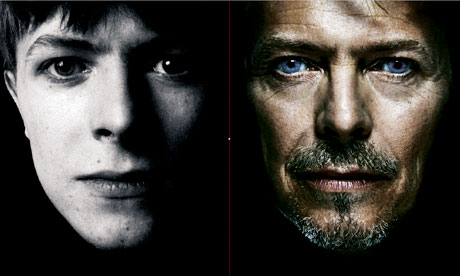 Speaking of cynicism, "Cygnet" acoustic flavored musings actually have closer to ties to a track on Bowie's next record; although it sounds like a precursor to Hunky Dory's "The Bewlay Brothers," in reality, "Committee" has more in common with "Rock & Roll Suicide," the track that would eventually kill Ziggy Stardust; while in that song Bowie sings, "♫ you're not alone ♫" to his legion of followers, in this Space Oddity cut, the very weary Bowie wanted to keep his distance by repeating his mantra, "♫ I want to live. ♫" Peter Doggett discussed this dichotomy when he wrote in The Man Who Sold The World, "Even before he had become a star, Bowie had glimpsed the cannibalistic relationship between leader and followers, idol and fans, guru and disciples. Yet he was still drawn toward pursing fame, influence, the trappings of god—a tension that would haunt [him in] the decade ahead." It's as if, Bowie had to live the life of a pop star before rejecting the world that made him become the alien that they loved.


David once dubbed "Cygnet" the best song on self-titled debut album, in that same 1969 interview with George Tremlett, quoted in Nicholas Pegg's The Complete David Bowie, where he defended his epic when he said, "They say it's too long, nine-and-a –half minutes as appose to the usual three…but it's a song in which I had something I wanted to say. It's me looking at the hippy movement saying [what] went wrong when the hippies became just like everyone else, materialistic and selfish." Later, Bowie discussed his intentions of Committee" in Pegg's The Complete David Bowie, when David explained, "I basically wanted it to be a cry to fucking humanity… [to attack those] who don't know what to do with themselves? Looking all the time for people to show them the way."


"Committee" is more than just a call to arms to the hippy generation; it's a struggle between Bowie's innocence and his need for commercial and critical notoriety. "Cygnet" is a rare epic because it has a very unique tripped out flow without being overtly psychedelic. It's a trip inside Bowie's mind before he went to outer space. You can hear the seeds of Ziggy Stardust within the journey of Bowie's ambitious epic. It's obvious that Bowie was still finding himself and "Cygnet Committee" was Bowie's theme song of David trying to find the balance between his own piece of mind and wrestling with how much he could actually give to his audience before he became the international cult idol and mega pop stardom his ego craved.


When asked by Cameron Crowe, in David's infamous Playboy interview of 1976, whether The Thin White Duke has trouble deciding which is the real you, Bowie responded, "I've learned to flow with myself. I honestly don't know where the real David Jones is. It's like playing the shell game. Except I've got so many shells I've forgotten what the pea looks like. I wouldn't know it if I found it. Being famous helps put off the problems of discovering myself. I mean that. That's the main reason I've always been so keen on being accepted, why I've striven so hard to put my brain to artistic use. I want to make a mark."


Bowie definitely made his first artistic mark with "Cygnet" from his 1969 self-titled debut album also known as Space Oddity. While many consider Bowie's creation of "Major Tom" as the highlight of his debut album, I prefer this underrated masterwork that is "Cygnet Committee." Rediscover this undiscovered melody that author Dave Thompson called, "the most important song [David Bowie] has ever written." "Cygnet Committee" is definitely one for the ages and one of the best Bowie songs you probably never heard before. Is "Cygnet" a call to arms, criticizing the counter-culture movement or the 9 minute plus epic that spotlight's the battles of David's personal demons before Bowie became international alien sensation that was Ziggy Stardust?' Turn on, tune in and take a trip inside this classic and discover the lyrical truth within David Bowie's rarely heard masterstroke of a Space Oddity that is "Cygnet Committee."

Although David rarely played this inner-space oddity cut live on stage, here's a rare version where Bowie performed "Cygnet Committee" at the BBC: