Don't Forget the Songs-365: Mach Tres: Day 234
Fri. Oct. 11, 2013
"Our Frank"
Morrissey
1991


"♫ But
look
I'm only
human ♫"


I like to believe if "Our Frank" was released in the late seventies or eighties, this Kill Uncle single would have definitely been a hit for Moz. Unfortunately, mixing Roxy Music piano sounds with "Our House" and The Smiths "Frankly Mr. Shankly" didn't equal The Smiths formula for success Morrissey and producers Clive Langer and Alan Winstanley were looking for. The end result was Morrissey's clever and imperfect lyrical Hulmerist tones turned Madness pop song tribute.


Yes, Moz fans, you read right, Morrissey's first single "Our Frank" is a rhythm-esque amalgam of the 1982 Madness single "Our House" and "Shankly." I like to think of Kill Uncle's opening salvo sounds like if "How Soon is Now" was done by Madness. Unbeknownst to most Kill Uncle fans, members of Madness were in the studio while Morrissey was recording Kill Uncle, as producer Clive Langer told Julie Hamill, in her must read Fifteen Minutes with… interviews on Hamill's most excellent website, "Yeah, 'Our Frank' is very Madness. Carl and Suggs were invited up to Hook End at that time, as well as people like Vic and Bob. I had to look after everyone [laughs]."


Not only were Madness watching the creation of Kill Uncle but bassist Mark "Bedders" Bedford played a key roll in the making of Morrissey's second album as he recalled in another stellar Fifteen Minutes with… interview by Julie Hamill, when he said, "I liked playing the double bass on it. Clive said to bring it and I liked that. There were two or three tracks, with double bass. That was a departure; I wasn't expecting to play it on a Morrissey record. But he went onto a fifties double bass, more rockabilly stuff after that. Our Frank sounded like a single straight away, when we started playing it. It was up, instant, really good." Bedders wasn't the only one who thought "Our Frank" sounded good, Stephen Dalton from NME called Morrissey's first single from Kill Uncle, "a streamlined pop gem." But "Our Frank" didn't catch on with like Morrissey's Viva Hate's singles, as Simon Goddard noted when he wrote in his essential Mozipedia book, "[Kill Uncle's first cut became] his first solo single not to make the UK Top 20."


Langer described the evolution of "Our Frank" to Johnny Rogan in his book Morrissey when the producer explained, "It was quite folky when we started. We booted it up a bit and the intro is actually the same as the outro…For that main chorus I was thinking early Roxy [Music] with the ding-ding-ding piano chords and stuff…The end vocal effect is just a preset in the Eventide Harmonizer."


Moz's co-songwriter Mark Nevin described working on "Our Frank" and getting on with recording Kill Uncle as he told Rogan in his book Morrissey when the guitarist reminisced, "The first song we did was 'Our Frank.' I remember me and Mark Bedford, who played bass, were wetting ourselves because we were very nervous. Morrissey is unnerving; he's so quiet and looks so amazing and cool with his quiff and glasses. He stands there and looks just like Morrissey—and that's amusing."


Later Nevin finished his story of recording "Our Frank" on the interview with Julie Hamill, when Mark further explained, "Then when we [the band] did the first song, 'Our Frank' we hadn't heard the lyrics, then Morrissey came along and put the guide vocal on it, they put a real Elvis echo to his voice. We were nervous like, it was like the first day of school and the energy around him; you don't feel relaxed around Morrissey. Then he sang the 'frankly vulgar red pullover' bit – are we supposed to laugh or not? So we look at each other, and we're giggling uncontrollably, and I remember the look on Morrissey's face, delighted that he had this effect on us."


Andrew Paresi/McGibbon was also there when Kill Uncle was birthed and Julie Hamill also interviewed Morrissey's drummer during the Kill Uncle sessions, told his side of recording "Our Frank" with Moz when he recalled, "I remember with Mark [Nevin] and we were sitting at the back of the studio when we'd recorded 'Our Frank' and we were killing ourselves when we heard 'I'm gonna be sick all over your red pullover and see how the colours blend'. It was hilarious! The concept of songwriting was being re-invented by Morrissey. For me, it was just awesome."


Awesome is right, I am be in the minority, but Kill Uncle is my favorite Morrissey solo album. Whether you're a purist who loves the original 1992 LP or the 20th Anniversary remastered version, I love both, songs like "Our Frank" brings out the clever Oscar Wilde-esque wit that we love so much from Morrissey. The former Smiths singer's second album may have been slaughtered in the press and in the charts but with cheeky lyrics like "♫ Your frankly vulgar/red pullover/ now see how the two colors blend/my friend ♫" makes Kill Uncle the anti-Viva Hate; in fact according to Simon Goddard's Mozipedia, Morrissey dubbed Uncle – "[a] more listenable and much happier [LP than his first] and a much better record, particularly in terms of lyrics."


Speaking of, did you notice that Morrissey recycled his "♫ I'm only Human ♫" lyric from "How Soon is Now." Not by accident, Moz may have been foreshadowing the future chart calamity of one the former Smiths singers more personal album. Morrissey hinted at the meaning of "Our Frank" in Goddard's Mozipedia when he said, "The conclusion that I finally came to about the state of the world [is] that the world is ending. We are in the debris [but] you have to get on with it."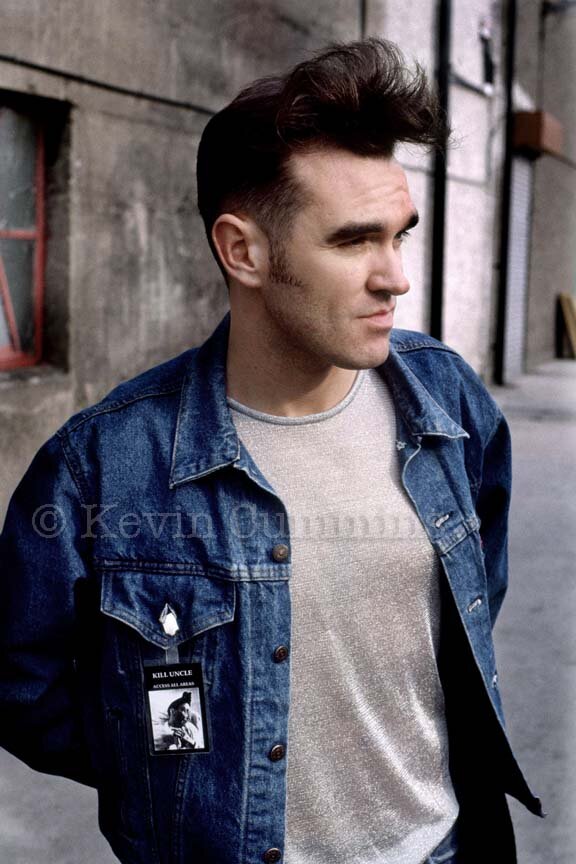 Morrissey would take the rockabilly elements of Kill Uncle as a canvas for his next more successful venture 1992's Your Arsenal. More than just a transitional album, Kill Uncle and more specifically "Our Frank" remains the imperfect opus. Have your doubts, give "Our Frank" another spin; Just ask Clive Langer, Bedders, Mark Nevin and Andrew Paresi— Kill Uncle's first single reflects the most clever, humanistic and Hulmerist single of Moz's career circa 1991 outshining his bleak but classic hit songs from Viva Hate. You should thank Kill Uncle and "Our Frank;" this Madness inspired single made Morrissey the nineties solo icon he was born to be. Best of all, Morrissey survived Uncle's critical backlash, what didn't Kill the former Smiths singer, made him stronger and songs like "Our Frank" gave Moz the confidence to reclaim his future mantle as one of the most beloved songwriting vocalists of this and any other generation.



I urge you to visit and bookmark Julie Hamill.com. Julie is one of the UK's most prominent authorities on all things Moz related; including her most essential Fifteen Minutes with segments, featuring exclusive interviews with Morrissey's collaborators, bandmates, producers and associates.