Don't Forget the Songs-365: Mach Tres: Day 125
Mon. June 3, 2013
"Dance Me To The End of Love (live)"
Leonard Cohen
1994


"♫ Dance
me very
tenderly/
and dance
me very
long ♫"


I've read many Leonard Cohen biographies and the majority of those tomes left me with less of an impression of an eternal enigma of one of our great living poets. It's as if books like Various Positions and The Remarkable Life of Leonard Cohen, only begin to surface the shadow like portrait of the ghost and I still have no sense behind the mystery that is Leonard Cohen. Thankfully Sylvie Simmons has written the book, I'm Your Man: The Life of Leonard Cohen that makes you feel like you actually get to peak at the man behind the lines and rhymes we have known, beloved and lost with throughout our years of love and solitude.


Simmons book makes you feel like you're actually there when Leonard is writing or recording in his home studio, when he entered a monetary in the mountains of Los Angeles and even the private moments, when Leonard's sense of humor comes out, you find yourself amazed that Cohen has survived, living the poets of life of struggle with a sense of joy, grace and serenity is nothing short of inspiring.


But most of all I love the way Sylvie describes the way Leonard came back to perform live in 2008. Forced to tour again because of the financial ruin his former manager left him in, Simmons describes the moment Cohen hit the stage in her Chapter "Here I Stand, I'm Your Man," when Sylvie wrote, "The applause was deafening. It bounced off the walls of the small theater and resounded in Leonard's ears. The whole room was on its feet. A minute ticked by, then another. Leonard had not sung a word and no one had played a note, but still they applauded. Leonard smiled shyly. He took off his hat and held it over his heart, in a gesture of humility, but also as armor. The response was gratifying—whatever they told him, he had never been confident as to what the reception might be—but also worrying, having such expectations to fulfill."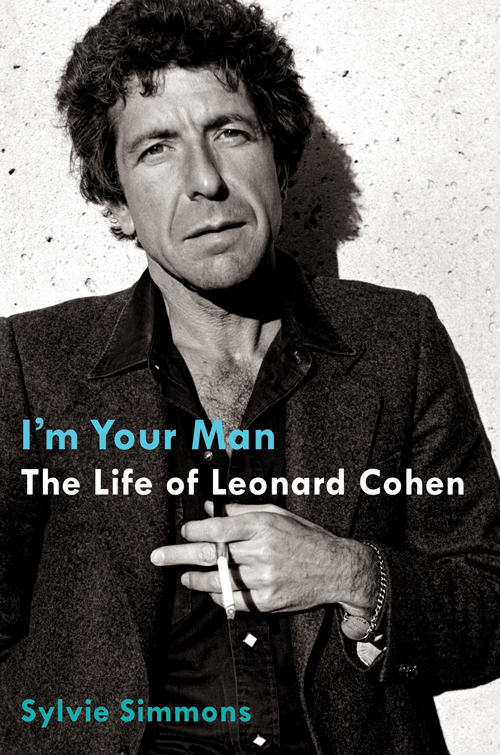 Simmons continued when she wrote, "But here he stood in the spotlight in his sharp suit, fedora and shiny shoes, looking like a Rat Pack rabbi, God's chosen mobster. He was flanked by three women singers and a six piece band, many of whom also wore suits and hats, like they were playing in a casino in Las Vegas. The band started up, Leonard pulled his fedora down low on his forehead, and cradling the microphone like it was an offering, he began to sing "Dance me to your beauty with a burning violin," his voice a little rough at the edges, but deep and strong, "Dance me through the panic till I'm gathered safely in" ("Dance Me To The End Of Love"). On this small, crowded stage, shoehorned with musicians and instruments and equipment […] Leonard sang as if he had come to this place alone to tell all these people in the seats, individually, a secret. He sang as if he had brought nothing with him on stage but this life of songs."


Convinced? The sign of the best music biographies is that each of them makes you want to listen to the artist their writing about and Sylvie Simmons tome I'm Your Man is no exception. The way that Sylvie wrote about "Dance Me To The End Of Love" made me stop mid-sentence and switch on my iPod to my favorite version from 1994's Cohen Live. As I re-read Simmons words and heard Cohen singing it felt like I was actually there watching Leonard, the great Poet, live on stage, crooning his wise words of love, loss and wisdom before my very ears.


If you're looking for the ultimate biographical portrait that's lyrically honest I urge you to pick up Sylvie Simmons' I'm Your Man. After a few pages, Simmons will have you reaching for your Cohen albums and fall for the poet in the fedora with his deep seductive prose, inspiring you to sing…"Dance Me To The End Of Love."


Leonard Cohen – "Dance Me To The End Of Love" from Cohen Live
[press to play]