Don't Forget the Songs-365: Mach Dos: Day 241
Mon. Sept 10, 2012
"On A Beach"
Richard Ashcroft
2000

"♫ I'm out on a
beach, sat on a
rock/ thinking of
you and the love I
got […] I'm on
fire, I'm full of
love and new
desire/ full of
love and new
desire ♫"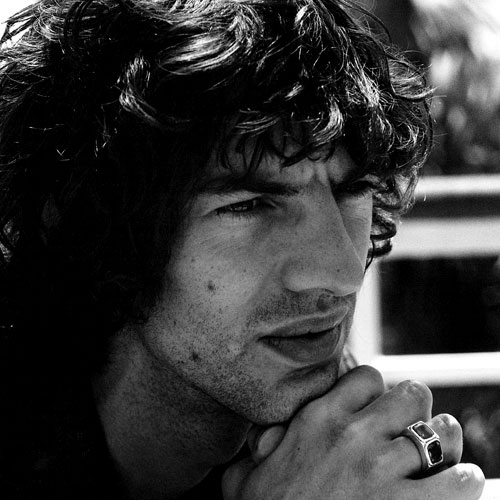 I had one of those picturesque personal music moments listening to track 7 of Richard Ashcroft's Alone with Everybody, "On the Beach" while on the sand in Malibu and overlooking the vast and beautiful ocean. At that moment, I felt at peace, relaxed with those beautiful lyrics that Ashcroft crooned soothing all my worries away. That's the job of the singer, the band, the artist and songwriter to take you away and simultaneously enlightening with a soundtrack that embraces the moment immortalized with sight, memory and sound.

""But also I'm a bit old-fashioned, and I believe I'm there to lead you into another place which hopefully is going to give you a brief respite or help you celebrate the beautiful life you've created for yourself, either which way it is… I understand that feeling because I had it when I was much younger." Richard said in 2010. Richard's devotion to personalizing the art of the song is the reason most of us are followers of The Verve and Ashcroft's lyrical explorations.

""On the Beach" track, at the end. And there's a line at the end of that that says "I eat the Beatles for lunch."" Ashcroft told Jay Babcock about a curious tongue and cheek lyric at the coda of "On a Beach." Being a lifelong Fab Four fanatic, I realize that his dubious lyrics are just Ashcroft being "Mad Richard." Ashcroft fully explained the meaning of 'The Beatles' lyric when he said, "Yeah. It's good that you can go from that to "I ain't afraid to die" to "I'm on fire/full of new desires"…you know what I mean, mixing it all in… and "Eating Beatles for lunch," which for me, at the end of the track it's this amazing piece, it's a song, it's uplifting, the horns in it, beautiful, and then at the end it says "eating Beatles for lunch," which definitely keeps in with the storyline of this Robinson Crusoe with his man Friday, or this Lord of the Flies thing, but in my head it's like Let's stop, fucking….Yeah, the Beatles, we all love them but, come on." If this was on Revolver now, we wouldn't be arguing. It's so psychedelic."

That's what I love about Ashcroft, no matter how reflective and thankful he becomes, there's still a little "Mad Richard" lurking deep inside and there's nothing wrong with that. It's very daring and noble for an artist to want to reach for the skies, musically, and attempt to surpass the brilliance of The Beatles. There's nothing really Beatles-esque about this track, in fact, "On a Beach" rhythmically sounds more like a shipwrecked imagined sequel to The Verve's "Lucky Man" from 1997's Urban Hymns.

"Yeah, in its purest form, without a shadow of a doubt, but [the question is] how much is it going to be corrupted from the moment you open your eyes and how you deal with that. I'm more beautiful on the record than I am in real life. Music helps me to express things that I can't express and desperately would love to. Just laying in Central Park on Sunday afternoon, it was a beautiful day with Kate and a few friends – that's what I'm talking about. Life's moments, just how beautiful it felt, with the sunshine on my face, Kate laying on me, trees blowing, and a jazz band playing in the distance and this big celebration of New York life going on in front of my eyes. That's a moment I'll never forget, and at one point that'll come out in a 10-second blast of music or that will come out in a song somewhere." Snapshot inspirational moments always finds their way into Richard Ashcroft's songs. Call him psychedelic, Beatles-esque, Verve-like—Richard Ashcroft creates memorable song craft. "On a Beach" was the theme song for our glorious weekend in Malibu. Whatever the intention, Ashcroft fulfilled his promise as an artist, by composing a beautiful song that reflected the splendor of the scenery for a soundtrack moment that I will never forget.

Next time you're "On a Beach" by the sea or ocean, make sure you take Richard Ashcroft's Alone with Everybody as your mystical music guide. You'll thank me for this. Press play and dive in to the soothing sounds of this picturesque gem.